Work at Topring
It is in the spirit of sharing ideas and collaboration that our team proudly takes action every day to make Topring a success. Give a new wind to your career and join us!
An enriching and rewarding work experience
Work-life balance
Flexibility programs for your well-being
Social Life
Social activities, and surprises to highlight team successes
Remote Work
A hybrid way of working, office and remote work
Fair & Variable Compensation
A fair salary, and profit sharing within the company
Group Insurance & EAP
A complete insurance plan and an Employee Assistance Program for you and your family
Telemedecine
Free access to healthcare professionals from the comfort of your home
Recognition
Downtime to recognize successes and collaboration
Environmental Awareness
Green initiatives, such as a community vegetable garden and composting
Production clerk
"My job is to ensure that every day, a multitude of industries, construction sites and organizations receive the parts they need to continue their operations and develop new projects." – Karine
Sales representative
"My clients are my partners and I make sure to provide them with high-performance solutions. I am fortunate to have access to continuing and technical training on all our products." – André
Accountant and Book-Keeper
"What makes me proudest at my job? Being able to help my colleagues solve various problems." - Nicolas
FAQ
What is your definition of the hybrid model between office and telework?
The world of work has changed and so have we. We decided to combine the best of both worlds and offer our staff the opportunity to work two days a week from home and three days a week in the office. Need a change of scenery? No problem! You can telework four weeks anywhere in Quebec and two weeks outside the province, or even in another country!
Whether in person or remotely, communication is important to us. In order to facilitate exchanges between colleagues and keep abreast of the company's activities, we have set up various ways to communicate. We also like to get together, we invite the whole Topring team to meet a few times a year.
What about work-life balance?
At Topring, we recognize that you have commitments outside of your professional life. The happiness of our employees is as important inside and outside our walls. We have implemented several flexibility programs to harmonize work-life balance: flexible hours, Friday afternoons off, up to three months of leave with or without pay, pre-retirement programs starting at age 60, Gradual return from parental leave, etc.
Our goal: Your daily well-being!
What type of colleague are we looking for?
At Topring, we always aim for the perfect match! We want to hire people who are on te ball, who love their work and can develop to their full potential. Yes, your skills matter, but we are looking for people who share our vision, who have a desire to learn and with whom we will enjoy collaborating. In other words, we surround ourselves with talented and passionate individuals we can count on.
We have developed a complete recruitment process that reflects our image, with the intention that it gives you the best possible overview about what working at Topring is all about.
Don't worry though, our Human Development team will be there to support you every step of the way, from your CV to your last day with us, ideally at the time of your retirement!
If I can't find a job opening that matches my profile, what can I do?
We are always looking for new talent for our various projects. Feel free to send us your cv at any time.
Do you offer internship opportunities?
We love finding ways to share the Topring experience. We consider that immersion in the workplace makes it possible to put into practice the theory taught. The best of both worlds! Send us your cv and all the explanatory documents related to your internship and we will be happy to evaluate your application.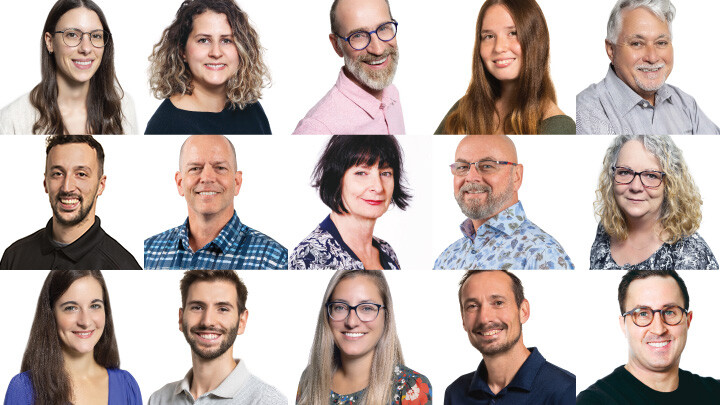 Discover the atmosphere that reigns at Topring
Do you want to find out more about what motivates your future colleagues and makes them proud? Here, they openly share with you how they live their Topring experience.