February 16, 2022 | Topring
When auditing an installation, we look for solutions or alternatives to help our clients with 3 different aspects: Safety - Efficiency - Performance.
In the case of Menuiseries Belisle, our advice and changes were mainly focused on the performance aspect.
CONTEXT OF THE CASE STUDY
Carpentry workshop / architectural doors and windows
Since 1971, Menuiseries Belisle specializes in the manufacture of architectural wood doors and windows, manufactured to the highest quality standards.
"When we first got into business, we installed a compressed air system without knowing much about it or the best practices and solutions available. Our air system consisted of flexible hoses suspended from the ceiling. Through the years and the expansions, our system started resembling an octopus.
Since we specialize in high-end products, the quality of the finish of our products is crucial. With more and more efficient equipment and machinery that requires constant airflow like our new CNC machine, our compressed air system was no longer able to serve our needs. The tools and equipment located furthest from the compressor were not getting enough air to operate properly.
We were faced with a high rejection rate due to non-compliance issues when applying paint and varnish. The lack of air made the application of the paint uneven requiring costly additional production steps (e.g.:sandblasting and refinish).
When a machine required maintenance, we had to depressurize the entire network and stop 80% of production to service the equipment.
We listed Topring's expertise to evaluate the efficiency of our compressed air system. Following a full system audit, they quickly identified issues and proposed solutions to optimize our compressed air system. Time was of the essence to maintain a proper management of our operations."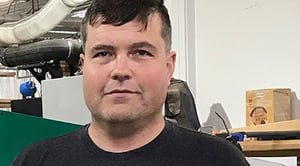 Jean-Pierre Belisle
Director of Production and Co-Owner, Menuiseries Belisle
CHALLENGES AND SOLUTIONS
1. Compressed Air Network Configuration
A high percentage of pressure loss is due to the inappropriate diameter of the piping components. The ideal diameter of the pipes should be calculated according to the total volume of air circulating and the total distance to be traveled between the compressor and the point of use. A closed-loop network is the most efficient type of network. Octopus type of networks has multiple flow and pressure problems.
The advantage of a closed-loop network is that the air produced by the compressor can travel through several lines at a time, providing balanced pressure and airflow throughout the entire network. The drops are powered by two air sources. This enables to install tubes of smaller diameter thus reducing the initial cost of the system and improving operating efficiency.
Allows the supply of compressed air to each service outlet using several paths at a time.
A proper balance between flow rate (SCFM) and pressure (PSI) is ensured.
Each secondary pipe (drops) is supplied by two sources of compressed air.
Expansions can be added and supplied.
| | |
| --- | --- |
| Octopus network | Closed-loop network |
"Our original octopus network consisted of 3/4" (20 mm) flexible hoses attached to the ceiling totaling 800 linear feet. Topring explained to us that the hoses were collecting water which constricts the pipe and reduces the available airflow. So we designed a closed-loop air network to provide the right amount of air to each machine." - J.-P. Belisle
2. Aluminum Air Network
To ensure that compressed air is clean and dry and that it does not damage tools and equipment by the presence of water and rust, it is important to choose materials that will not corrode. When compared to a steel piping or assembled flexible hoses, an aluminum network offers many performance advantages.
The advantages of aluminum air pipes versus steel pipes: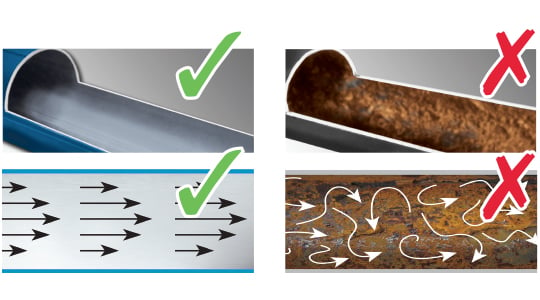 | Aluminum pipes | Steel pipes |
| --- | --- |
| Topring pipes resist to corrosion and do not deteriorate | Traditional pipes will rust and accumulate contaminants |
| Topring aluminum pipes allow air to circulate freely without friction | Rust causes friction and air turbulence |
"We chose a 32 mm Topring aluminum network. By having a larger diameter network (originally 20 mm), we have increased the available airflow to allow us to run all of our equipment efficiently and will even allow us future expansions without worrying about adding compressors." - J.-P. Belisle
3. Maintenance Planning
Ball valves installed on a closed-loop network allow to isolate sections of the network for periodic maintenance, repairs or even expansion. For safety reasons, we recommend using lockout ball valves to ensure that the system cannot be supplied by mistake during these kids of operations which, could cause serious injuries.
| | |
| --- | --- |
| | "The addition of ball valves is an ideal solution for the maintenance of equipment without depressurizing the system. We have installed them in several places so that any machine requiring maintenance can be isolated. This allows us to continue running the other machines and equipment while maintenance is being performed. It is now easier to plan our production with less unforeseen events." - J.-P. Belisle |
4. Air Preparation at the Application
For paint applications, it is recommended to install a desiccant air dryer as it provides clean, dry, and high-quality air. It removes oil, aerosols, water vapors, and impurities from the compressed air system. This provides the ultimate protection when applying high-tech finishing products. This dryer can be installed directly into the network.
3 stages for clean and dry compressed air:
A desiccant air dryer needs to be protected from oil by using a coalescent filter, which needs to be protected by a standard filter. This type of desiccant air dryer is a 3 stage system.
Step 1: FILTRATION

The air first enters the particle filter, which has a 5-micron element
In this stage, corrosive moisture, pipe scale, dirt, and rust are removed from the air network

Step 2: COALESCENCE FILTRATION

99.99% of oil and aerosols are removed from the air
Fine filtration also takes place and microscopic particles down to 0.01 micron or 0.3 microns (depending on the model) are removed

Step 3: DEHYDRATION

As the air enters the desiccant air dryer, it is dispersed through a filter element which distributes air evenly through the silica gel desiccant beads
The silica gel desiccant beads adsorb water vapour from the air, producing a -40 °C pressure dew point
"We added Series 54 desiccant air dryers to ensure proper air during paint and varnish applications." - J.-P. Belisle
OUR EXPERIENCE WITH TOPRING
"I am very satisfied with Topring's expertise. With the proposed solutions and modifications, we noticed a difference in the performance of each of our machines. They are now operating at their full potential. I am delighted with the Topring aluminum networks; I recommend them to everyone! Now we do not need to stop production and we can be more productive." - J.-P. Belisle
USEFUL LINKS
Download our white papers:
Practical Guide to Planning a Compressed Air Piping System
3-Step Maintenance Control for Compressed Air Piping Systems
Read our blog posts:
5 Reasons to Choose an Aluminum Compressed Air Pipe
5 Solutions to Remove and Treat Condensates
Menuiseries Belisle has chosen to use the following Topring products:
Aluminum Compressed Air Piping System
Series 54 - Desiccant Air Dryers with Silica Gel Desiccant Beads