February 16, 2022 | Topring
When Topring audits a facility, we're looking for solutions or alternatives to help our clients with three key aspects: safety — efficiency — performance.
In working with NFH, our suggestions and alterations focused on safety and performance.
CONTEXT OF THE CASE STUDY
Nutraceuticals Manufacturing Plant
NFH is a Canadian nutraceutical company that develops natural plant-based products, vitamins, and minerals for accredited health professionals. It complies with Health Canada regulations and takes the environment and global sustainability to heart.
"When I started my pharmaceutical company, I bought a building and then tore out everything inside. This meant I could start from scratch, on solid ground, and with my own plan.
Nutritional Fundamentals for Health (NFH) specializes in effective, safe solutions that improve health by reducing the risk of developing diseases later in life. All-natural and over-the-counter health products are subject to strict Health Canada regulations. That's why we have to apply high-quality standards every day.
I wanted to set up 10 clean rooms and a range of pill production equipment for my team of scientists, medical consultants, and students. Compressed air would be used for all these machines, pneumatic cylinders, drain valves, and solenoid valves. We also planned to use compressed air for cleaning and drying.
I had to really think about the future of my company and my team. I wanted to provide them with a work environment that would be ideal for their work processes and enhance their performance, but that would also keep them safe. On a more personal level, I also believe that the environment and sustainability have to be part of the equation.
I took the time to select each and every component and item of equipment for the future plant myself. And I made sure I got advice from the right professionals. The project to start a manufacturing plant was a really big investment and I wanted to be sure I was doing it right. I researched the various solutions available in the market. That's when I discovered that Topring had a wide-ranging product offering and that their solutions met my top two criteria: safety and performance. So I decided to work with Topring on my new plant. I also hired engineers and plumbers to make sure everything was optimal."
Patrick Quaile
Entrepreneur and CEO, Nutritional Fundamentals for Health Inc. (NFH)
CHALLENGES AND SOLUTIONS
The Challenges of Air Quality and Hygiene
Certain applications and processes require very high air quality standards. This is true in the pharmaceutical and nutraceutical industries, where compressed air may come into contact with ingredients. The presence of water or contaminants can lead to pneumatic equipment failing and bacteria proliferating in compressed air piping.
The ISO 8573 Standard
The International Organization for Standardization (ISO) established the ISO 8573 Series of standards to make it easier to select, design, and measure air treatment components. The standard identifies three main types of contaminants in a compressed air system: solid particles, water, and oil (in the form of aerosol and vapor). Every contaminant is categorized and assigned a purity class ranging from Class 0 (the most stringent) to Class 9 (the least stringent). The type of industry dictates the required purity level.
Level 1

Level 2
Level 3
Level 4
Level 5
Compressed air without specification
General shop air: air tools (sandblasting, grinding)
Air instrument
Spray painting
Powder coating
Packing machines


Food industry
Pharmaceutical and chemical industries
Laboratories


Food industry (breweries, dairies)
Pharmaceutical and chemical industries
Laboratories


ISO 8573.1


Class 5.6.5

ISO 8573.1


Class 3.6.4

ISO 8573.1


Class 1.5.3

ISO 8573.1


Class 1.4.1

ISO 8573.1


Class 1.1.1
The nutraceutical industry must deliver Level 4 air quality: Class 1 filtration for solid particles, Class 4 for water, and Class 1 for oil.
The table below summarizes, for each ISO class, the necessary level of filtration for the top three contaminants.
Classe ISO 8573.1 (2010)
Solid Particles
Water
Oil
Maximum no. of particles per m3
Concentration
Vapor
Liquid
Total Oil (1)
0.1 – 0.5 micron
0.5 – 1 micron
1 – 5 microns
mg/m3
Pressure dew point
g/m3
mg/m3
0
As specified by the equipment user or supplier
1
≤ 20 000
≤ 400
≤ 10
---
≤ -94°F
---
≤ 0.01
2
≤ 400 000
≤ 6 000
≤ 100
---
≤ -40°F
---
≤ 0.1
3
---
≤ 90 000
≤ 1 000
---
≤ -4°F
---
≤ 1
4
---
---
≤ 10 000
---
≤ 37°F
---
≤ 5
5
---
---
≤ 100 000
---
≤ 45°F
---
---
6
---
---
---
≤ 5
≤ 50°F
---
---
7
---
---
---
5 – 10
---
≤ 0.5
---
8
---
---
---
---
---
0.5 – 10
---
9
---
---
---
---
---
5 – 10
---
(1) All forms of oil including liquids, aerosols, and vapor
"Health Canada regulates and keeps a close eye on any facilities that produce vitamins, nutritional supplements, antioxidants, energy products, and probiotics, to name just a few of the 120 products we manufacture. We have to be very careful as soon as there is potential risk to people's health, no matter how small it may be.
To meet our industry's stringent air quality requirements for clean, dry air and to safeguard the environment, we chose four Topring solutions for eliminating and treating condensates: a MAXDRAIN Compact Programmable Digital Automatic Drain (S59), a refrigerant air dryer (S49), TOPDRY Compressed Air Filters (S53), and a water/oil separator (S57).
Every clean room had to be airtight and watertight for thorough washing.
After deciding how to treat the air in the compressor, I had to make sure the rest of the air system would meet stringent hygiene criteria. We needed to prevent bacteria from proliferating at any cost. Every clean room had to be airtight and watertight for thorough washing. Because employee safety is also vitally important to me, I chose safe solutions. Topring had everything I needed. I chose a Topring PPS (S08) Compressed Air Piping System for all pipes and fittings, couplers, manifolds, and so on, and my clean rooms are equipped with RolAir Hose Reels with PVC hoses (S79) and AIRPRO High Flow Blow Guns (S60)." – P. Quaile
The Solution: Safe Air Treatment and Sustainable Components
Patrick chose to install the following equipment at his company's new plant:
1. An Automatic Drain for a Water-Free System
Installing a programmable automatic drain valve will ensure that any water build-up in the compressor tank is collected and eliminated. Mr. Quaile chose a model with a digital timer in order to control the drain time and protect the drain's programming in the event of disconnection or a power outage. In addition, any contaminant that might block the valve can be removed easily using a strainer with bypass.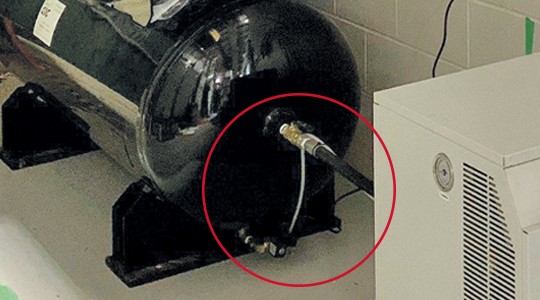 2. A Refrigerant Air Dryer for Air That's Almost Perfectly Dry
Using a refrigerant air dryer near the compressor quickly eliminates condensates and:
Improves the finished product
Results in fewer system interruptions
Cuts maintenance costs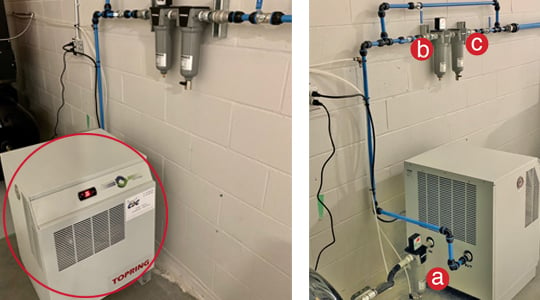 3. Three Air Filters to Eliminate Any Trace of Oil and Odor
a) One Class M5 filter upstream of the dryer for basic dust-free filtration (eliminates particles of up to 5 microns)
b) One Class M01 filter downstream of the dryer for high-efficiency oil removal (elimination of particles and aerosols of up to 0.01 micron) including water and oil aerosols (with a maximum residual oil content of 0.01 mg/m3 at 20°C)
c) One Class AC filter (activated carbon) to eliminate odor and oil vapors (with a maximum residual oil content of 0.003 mg/m3 at 20°C combined with the M01 quality element)
4. A Water/Oil Separator for Environmentally Friendly Disposal of Condensates
With his concern for the environment, Mr. Quaile had a water/oil separator installed at the end of the condensate drain line. This separates condensates from the water and gets rid of these in a cost-effect, environmentally responsible manner.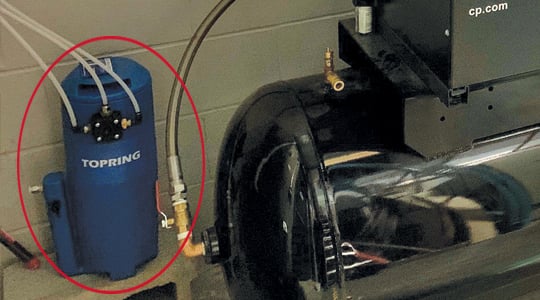 5. A Corrosion-Resistant, 100% Aluminum Air System
The Topring PPS Compressed Air Piping System consists of all-aluminum, CRN-approved pipes and fittings. Aluminum pipes:
Resist corrosion and don't deteriorate
Allow air to circulate freely, without friction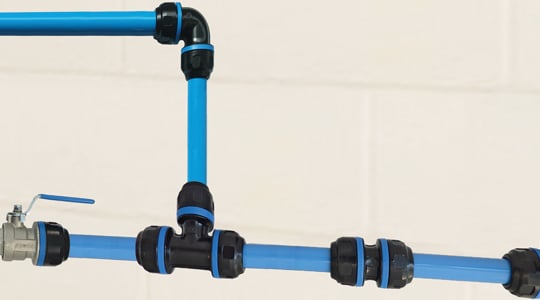 6. Hygienic Closed Hose Reels
RolAir Hose Reels with PVC hoses are ideal when it comes to hygiene. The heavy-duty polypropylene case is easy to clean. This is the top criterion for a clean room, which has to be airtight and watertight for thorough washing.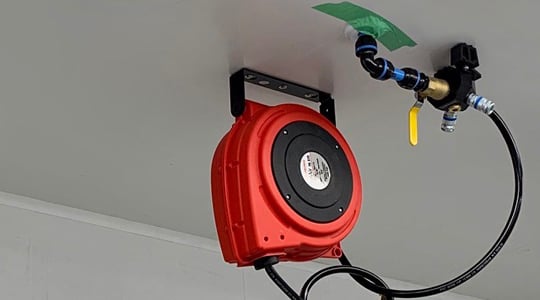 7. Safe, Powerful Blow Guns for Worry-Free Cleaning
Using compressed air for cleaning entails risk. AIRPRO Safety High Flow Venturi Nozzle Blow Guns are extremely powerful yet safe. If the tip of the nozzle is blocked, air escapes through the side holes so that static pressure remains under 30 PSI.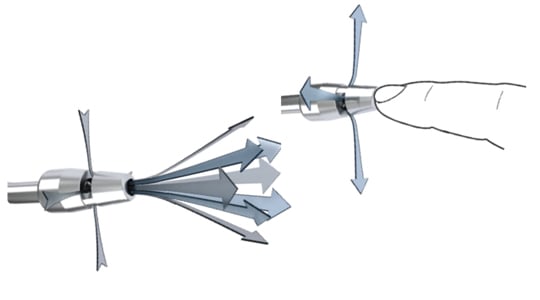 OUR EXPERIENCE WITH TOPRING
"I'm so glad I discovered Topring products. They provide great service. I wanted to take the time to select every component myself and, thanks to the spot-on advice from my Technical Advisor, I got to do that. Practically the entire plant is now Topring, and I'm proud of that fact. I know I won't have any quality or safety problems and that my products are adapted to my company's needs. I plan to continue buying Topring products, and I recommend their products to everyone!" – P. Quaile
USEFUL LINKS
Read our blog post:
5 Solutions to Remove and Treat Condensates
NFH has chosen to use the following Topring products:
Series 08 - Topring PPS Compressed Air Piping System
Series 49 - Refrigerant Air Dryers
Series 53 - TOPDRY Compressed Air Filters
Series 57 - Water/Oil Separators
Series 59 - MAXDRAIN Programmable Digital Automatic Drain
Series 60 - AIRPRO Safety High Flow Venturi Nozzle Blow Gun
Series 79 - RolAir Hose Reels