February 16, 2022 | Topring
When auditing an installation, we look for solutions or alternatives to help our clients with 3 different aspects: Safety - Efficiency - Performance.
In the case of Roberts Plastics, our advice and changes were mainly focused on the energy efficiency aspect and performance.
Context of the case study
Plastic bags manufacturer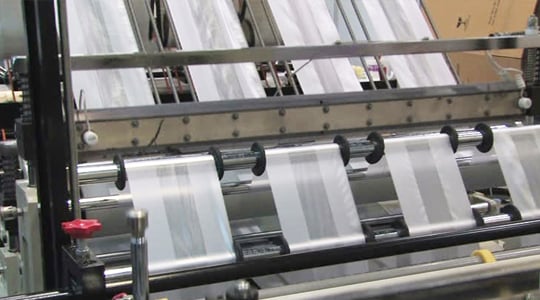 Roberts Plastics is a plastic bags manufacturer located in Toronto, Ontario. They have been in business since 1977.
"Over the years, the increased production at Roberts Plastics created important challenges associated with the performance of the compressed air network, which is the lifeline of our manufacturing equipment.
As the demand grew for our products, so did the requirements for the volume and quality of compressed air. Our system was unable to handle the air required to efficiently run the manufacturing equipment, which impacted the quality and consistency of our products. Those needs surpassed our compressed air capacity.
The challenges we faced with our compressed air system and the strains put on our compressor to meet the demand were not only affecting the consistency and quality of our products, but it was also affecting our productivity, our energy consumption, and the overall operating costs attributed by maintenance and unscheduled downtime. Our compressor was outputting above capacity which created excess water in our air network. That water was reaching the pneumatic valves of our equipment forcing us to replace them frequently at a significant cost for parts, labour, and the obvious losses attributed to unscheduled downtime.
With the recent launch of our "100% degradable plastics" product line, we expressed our philosophical shift to our commitment to clean environment-conscious living. In the spirit of remaining consistent with our values, we turned our attention to our operations by developing more efficient and leaner manufacturing methods. We turned to the team of experts from Topring to inspect, audit, and propose the necessary modification to our compressed air system and make it efficient and reliable."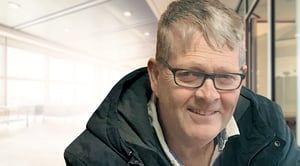 Randy Roberts
Owner, Roberts Plastics Ltd.
Challenges and solutions
Proper air treatment at the compressor
Compressed air contains water vapor and different contaminants that need to be properly filtered in order to avoid downstream corrosion, to reduce wear and tear, and to increase the service life of pneumatic equipment. The most obvious place for the condensate to accumulate is in the compressor tank. In addition to damaging the tank, this condensate is also drawn into the compressed air network. Removing this condensate is vital, as even small quantities can have a detrimental effect on downstream equipment and reduce the volume and quantity of available air.
"Topring's collaboration helped us solve our compressed air challenges. The impact has been very positive on the quality of our products, our efficiency as well as our production and energy costs." - R. Roberts
Liters of water produced by a 25 HP compressor after 8 hours
Ambient Air Temperature °C

% Humidity

20 %

30 %

40 %

50 %

60 %

70 %

80 %

90 %

100 %

49

84.5

126.8

169.1

211.4

253.7

296.0

338.0

380.1

422.8

43

64.1

95.5

126.8

159.6

190.1

222.3

253.7

286.4

317.8

38

47.7

70.9

94.1

118.7

141.8

166.4

189.6

212.8

237.3

32

35.6

51.8

69.6

87.3

105.0

121.4

139.1

156.8

174.6

27

25.9

38.2

50.5

62.7

76.4

88.6

101.0

113.2

126.8

21

17.7

27.3

35.5

45.0

54.5

61.4

72.3

81.8

90.0

16

12.3

19.1

25.9

31.4

38.2

45.0

50.5

57.3

64.1

10

9.5

13.6

17.7

21.8

27.3

31.4

35.5

39.6

45.0

4

5.5

9.5

12.3

15.6

17.7

21.8

24.5

27.3

30.0

-1

4.1

5.5

8.2

9.5

12.3

13.6

16.4

17.7

20.5

-7


2.7

4.1

5.5

6.8

7.7

8.6

9.5

10.9

12.3

-12

1.4

2.3

3.2

3.6

4.5

5.5

6.4

6.8

8.2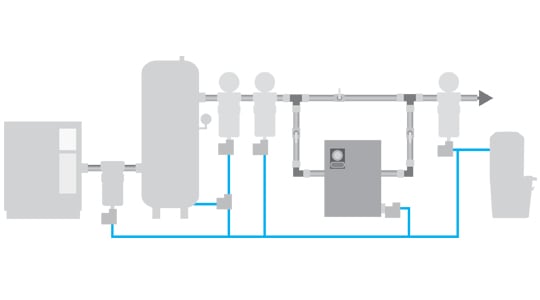 The air treatment system put in place.
"We did not have a proper air treatment system in place and the presence of water was a big issue for us. To remove the condensates, Topring's team suggested installing an air dryer and a proper pre-filtration to remove the excess water and dirt in the system." - R. Roberts
Air distribution system design
Most of the pressure loss in an air distribution network is due to inappropriate piping diameter and inefficient system configuration. The ideal pipe diameter should be calculated according to the total volume of airflow requirements and the total distance the air will travel. Closed-loop networks are the most efficient type of network configurations. Octopus types of network designs will lead to excessive pressure loss. The advantage of the closed-loop network is that the air travels through several lines at a time. The airdrops are supplied by two sources of compressed air allowing for smaller-diameter pipes (reducing the cost).
"Our original "octopus" air network consisted of 3/4 rubber hoses fixed to the ceiling. Topring explained that being filled with water, they were contributing to the reduced amount of airflow available. We designed a closed-loop air network to deliver the right amount of airflow to each machine. With these simple changes, we saw an immediate difference in the performance of each of the machines. We experienced no downtime resulting in valve changes and constant adjustment to the timing process because our air was now clean and dry." - Randy R.
Our experience with Topring
"The overall support and speed of service provided by the Topring team was very good and delivered in a professional manner. The product selection and suggestions eliminated the "guesswork" and put our minds at ease when making the final decision. The team directed us to professional installers who had us up and running very quickly. We will soon be moving into a new facility and will be installing Topring piping exclusively for our compressed air network." - R. Roberts
Useful links
Download our white papers:
Basics of Compressed Air
Practical Guide to Planning a Compressed Air Piping System
Read our blog post: