February 16, 2022 | Topring
When auditing an installation, we look for solutions or alternatives to help our clients with 3 different aspects: Safety - Efficiency - Performance.
In the case of Les Plastiques NADCO, our advice and changes were mainly focused on the energy efficiency aspect.
Context of the case study
Injection molding manufacturer
Les Plastiques NADCO specialized in custom molding and turnkey solutions that are completely customizable and adapted to each customer needs. They are located in Granby and have been in business since 1991.
" In our manufacturing process we use flexible hoses to circulate water inside the plastic injection molds, this water is either very cold or very hot. The thermal variations created by the different fluids circulating in the hoses cause an expansion which causes water leaks. In order to seal the leaks, our set-up operators are forced to regularly readjust the hose clamps. With 12 to 32, tightly aligned, hose outlets for each mold. This manoeuver is very difficult on the operators who are also exposed to hand injuries from the cutting edge of the collars.
The general working environment is difficult on the equipment, grease is ever-present, metal chips and sharp edges on the molds put enormous strain on the equipment. The injection process also involves frequent opening and closing of the molds, varying from 10-second intervals to 3 minutes which puts the hoses to the test. The outer membranes of our hoses deteriorate very quickly and must be replaced regularly resulting in time loss, high costs, and a more frequent preventive maintenance schedule.
In the current market context, recruitment of qualified personnel is a major challenge for manufacturing companies like us. Our priority is to ensure that our working conditions and manufacturing processes are safe and enjoyable for our employees. With 15 machines and over 300 molds in operation 24 hours a day, a detail as small as tightening a hose clamp or replacing a hose that wears out prematurely can become very irritating for our operators.
Whenever the opportunity to use a more resistant product that reduces the adjustment time and irritants, I do not hesitate to make the change. Using the best products available on the market is always a priority. With Topring's wide offering of flexible hoses, I contacted them to find a product that was better suited to our needs."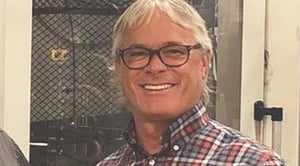 Martin Nadeau
President, Les Plastiques NADCO
Challenges and solutions
1. Replacement of flexible hoses
If the hose material is not suitable for the working environment in which it is used, it will deteriorate rapidly. Here are some signs of a hose poorly suited to its environment or application:
Cracking and breakage causing air leakage
Premature aging
Absorption of dirt
Connection fault
Cold weather hardening
Softening due to heat
Swelling and bursting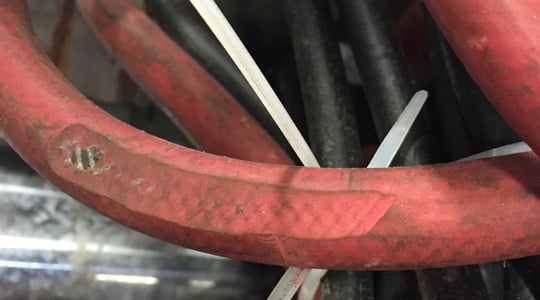 Premature wear of natural rubber flexible hoses.
For applications requiring a tough hose with a wide working temperature range, it is recommended to use a synthetic rubber hose rather than a natural rubber hose. It will offer greater strength for intensive applications.
Comparison between natural rubber and synthetic rubber:
| Material | Natural rubber/neoprene | "Lock-on" synthetic rubber |
| --- | --- | --- |
| Flexibility | *** | *** |
| Toughness | *** | ***** |
| Fittings | Traditional fittings with hose clamps or crimping | " Lock-on " hose barb fittings |
| Working temperature | -40°C to 82°C | -40°C to 100°C |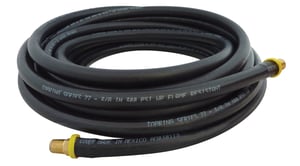 Synthetic rubber hoses are more resistant.
| | |
| --- | --- |
| | " Following Topring's recommendations, we opted for the synthetic rubber hose for its toughness and its resistance to thermal variations. Those hoses last longer and require much fewer replacements." - M. Nadeau |
2. Switching to "lock-on" fittings
As an alternative to traditional hose clamps or other crimping methods, Topring brass barb fittings for "Lock-on" air hose can be used with ''Lock-on'' rubber hoses. Simply make a square cut at the end of the hose and insert the fitting manually. The simple and quick installation is efficient and saves time, especially in a context where several hoses are to be installed.
The problem vs. the solution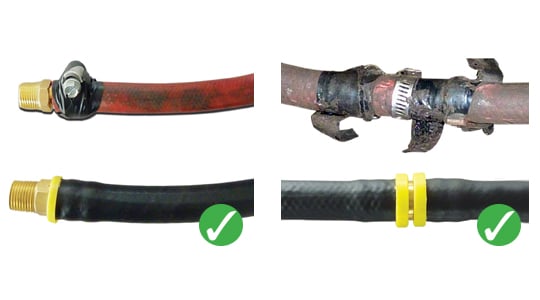 Barb fittings are a good alternative to repair broken air hoses.
| | |
| --- | --- |
| | " The use of " Lock-on " fittings simplified our maintenance operations; they are installed simply and quickly by our operators. They are also safe to use, preventing potential finger injuries during the installation." - M. Nadeau |
Our experience with Topring
  We used the wrong hose material for over 10 years. I would have liked to know about the " Lock-on " hoses and fittings before! We received excellent service from the Topring team. They quickly targeted the cause of the problem and offered us solutions and products that suited our needs. This productivity gain is reflected in our operations." - M. Nadeau