February 16, 2022 | Topring
Granby, May 13, 2021. – It is with great honor and pride that Topring received the HR best practices award at the Gala des prix distinction 2021 of the Chambre de commerce Haute-Yamaska, which was held virtually on Friday, May 7th.
This is the 34th edition. Last year, organizers had to cancel the event. This year, they have opted for a 100% virtual formula. During the evening, some twenty prizes were awarded to businesses and businesspeople from Haute-Yamaska.
Topring was nominated in the "Good HR Practices" category alongside Bromont montagne d'expériences and Robert Bernard.
"This is a great recognition for us. We are happy to be able to share our little secrets to bring happiness into the daily life of our employees. It is so important. We were already doing it before the pandemic, now it has just become a must. We have set up a Wow and Well-being initiative committee to spoil our people: surprise gifts, delivery of a dinner to teleworkers, highlight of an employee's achievement, virtual event … any excuse is good to celebrate, bond and put a smile on the faces of our employees."

– Anne-Catherine Ménard, copresident

"Thank you to each member of the Topring team for your daily involvement. You are our strength and our DNA. Without you, we could not innovate as much and push our limits. Thank you for being there with us!"

– Dominique Boutin, Human resource director
Topring was also a finalist in the "Manufacturing Company – over 20 employees" category, alongside Artopex and Groupe Northrich. The prize was awarded to Artopex for its innovations over the years.
From print to television
Following the announcement of the finalists for the Gala des prix distinction 2021, Topring was spotted by various journalists who wanted to promote the initiatives put in place with employees.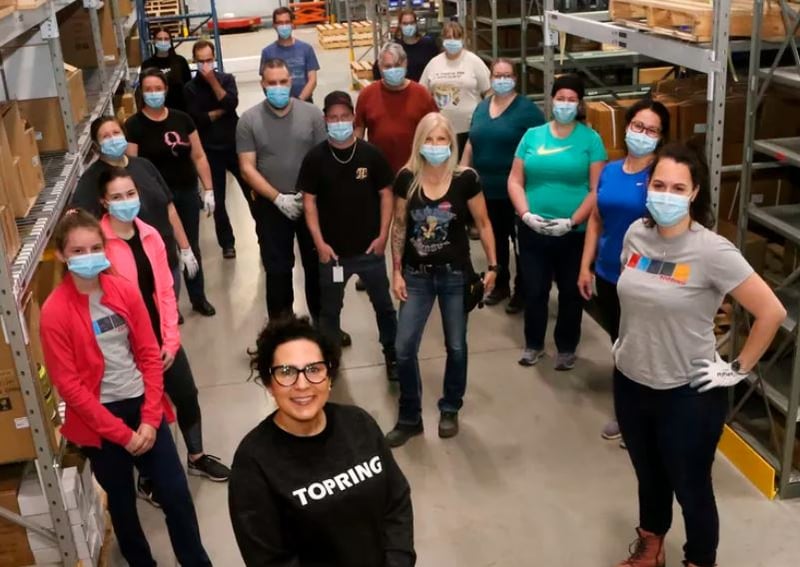 On April 29, the copresident, Anne-Catherine Ménard, gave an interview for the French television channel Noovo Info to share some little secrets of initiatives to seduce employees in a context of labor shortage. > Click here to watch the full interview.
– End –
Source : 
Anne-Catherine Ménard, copresident at Topring |  acmenard@topring.ca